DIY high performance computing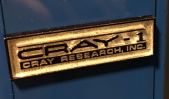 It took me almost a year to complete the Cray-1 project during my spare time. When I decided to build a physical copy of the first supercomputer ever, as faithful as possible, I found on the web a lot of inspiring examples (just like this one by Chris Fenton). In 1975 the 80 MHz Cray-1A was announced. Excitement was so high that a bidding war for the first machine broke out between Lawrence Livermore National Laboratory and Los Alamos National Laboratory, the latter eventually winning and receiving serial number 001 in 1976 for a six-month trial. Since then, the Cray-1 supercomputer reigned as the world's fastest from 1976 to 1982 (source).
My personal 1:8 Cray-1A was made laser cutting some plexiglass sheets after a careful drafting process of the main vertical framework, which originally hosted over 60 miles of wire with no segment longer than 3 inches, to minimize signal delays. Amazing! My Cray-1A is equipped with a Rasperry Pi 2 board (out of 12 possible parallel slots) running a customized Os: a dedicated I2C controller drives a 16x2 characters LCD blue display while wi-fi and bluetooth interfaces guarantee wireless connections.
"After a rare speech at the National Center for Atmospheric Research in Boulder, Colorado, in 1976, programmers in the audience had suddenly fallen silent when Cray offered to answer questions. He stood there for several minutes, waiting for their queries, but none came. When he left, the head of NCAR's computing division chided the programmers. 'Why didn't someone raise a hand?' After a tense moment, one programmer replied, 'How do you talk to God?'" (The Supermen, by C. J. Murray, J. Wiley & Sons, 1997).
I spent a couple of hours using CAD software to figure out the best way possible to assemble the pieces, with some over-engineering as usual. But I like the final achievement a lot! The 8-times smaller Cray is made of wood, plastic tiles painted in blue (thanks Giovanni!), little foam pillows covered in carefully sewn alcantara fabric (thanks Mom!), 3D printed joints and badges (thanks to Shapeways and to my 3D printer!), a lot of glue, some screws and five beautiful, soft rubber feet (thanks Luisa!).
The Cray-1 metallic badge replica was 3D printed with 29 micron layers, taking advantage of the "Frosted Ultra Detail" material by Shapeways, which offers very high detail and can be finished and painted. The Cray-1A mood was very improved by the badge.
While generally used for scientific projects, such as simulating the interaction of fluids, one of these bad boys helped render the CGI for the first Tron movie, released in 1982. But a Cray-1's raw computational power of 80 million floating-point operations per second (FLOPS) is laughable by today's standards; the graphics unit inside the iPhone 5s produces about 76.8 GFLOPS – nearly a thousand times more. And surely, the iPhone can render 3D graphics looking better than Tron's Lightcycle scene (source).
Just in case someone is inclined to replicate my 1:8 Cray-1A, drop me some lines and I will be more than glad to supply with my shop drawings for the wooden base (to be laser cut - 1 cm. thick), all the interior an exterior side panels in plexiglass (5 mm. thick, to be painted in reverse), the main framework in plexiglass (5 mm. thick, to be laser cut) and the cutting scheme for low panels and pillows. The 3D model of the iconic Cray-1 plate is also available as .STL file. Please PM me if you want them.
cinque commenti