Il NORAD (acronimo in inglese di North American Aerospace Defense Command) è una organizzazione congiunta del Canada e degli Stati Uniti, che fornisce un quadro di insieme sulla situazione (natura, posizione, direzione e velocità) di ogni aviogetto oppure oggetto spaziale nei cieli del Nord America, organizzando il controllo e la sorveglianza sul comportamento di ogni oggetto o veicolo che esca dai canoni stabiliti per l'aviazione commerciale, civile e militare. Inoltre organizza l'allerta e la reazione di intercettazione, identificazione ed eventuale abbattimento di ogni aviogetto e missile sconosciuto e/o potenzialmente ostile, inclusi gli UFO. Quest'anno, la notte tra il 24 e il 25 dicembre, verrà tracciato lo spostamento della slitta di Babbo Natale! Sì lo so, sono pazzi e malati, ma è tutto vero!
L'animazione sembra carina...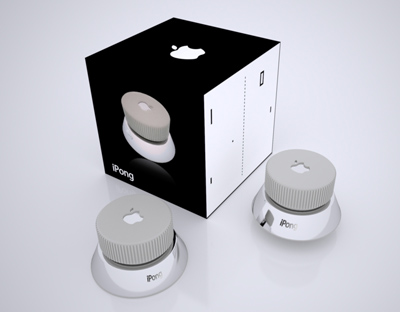 So, this is the amazing result of a geek saturday night meeting! The iPong™ is the newest entertainment Apple-like device ever appeared on the web. Developed as a wireless peripheral for your awesome Mac, the iPong™ is a cool, vintage restyling of the legendary grip handle used in the early 70's to play Pong in the most trendy game rooms all over the world. Enjoy this new virtual product (of course a joke) from Cupertino, spending hours of fun with your friends! Train yourself to proudly participate in the next iPong World Championship Tour starting from january!
To Guido and Paolo, many thanks for authoring with me this foolish project! Click on the iPong™ picture to explore the incredible iPong World©!