Simone Garagnani, Ph.D.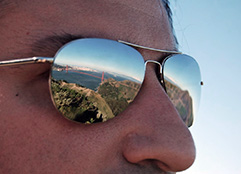 Simone Garagnani è ingegnere edile e dottore di ricerca in Ingegneria Edilizia e Territoriale. Ha svolto negli anni docenze presso la Scuola di Ingegneria/Architettura dell'Università di Bologna nei corsi di Disegno dell'Architettura I e II, Rilievo dell'Architettura, Modellazione virtuale per l'Architettura ed Informatica Grafica. E' attualmente ricercatore a tempo determinato presso l'Università di Bologna, e segue i corsi BIM in Architecture/Building Engineering a Bologna, nella Laurea Magistrale in Ingegneria dei processi e dei sistemi edilizi nella sede di Ravenna e Building Information Modeling nella Laurea Magistrale in Civil Engineering a Bologna.
Si occupa formalmente dal 2004 di tematiche pertinenti il rilievo ad alta risoluzione TLS e fotogrammetrico, la modellazione digitale avanzata e il Building Information Modeling (BIM), tecnologie che ha approfondito dal punto di vista accademico e professionale anche in qualità di Visiting Scholar presso la facoltà di Ingegneria Elettronica e Computer Sciences (EECS) dell'Università della California, Berkeley (USA).
Nel 2009 è stato ammesso, dopo una selezione per titoli su base nazionale, al corso Internazionale di Alta Formazione in Beni Culturali: Rappresentazione e Modellazione, metodologie e tecnologie per la rappresentazione e modellazione 3D di manufatti e complessi archeologici-monumentali, presso la Scuola Normale Superiore di Pisa.
La modellazione digitale informativa del patrimonio costruito diviene una sua specializzazione come riportato in diversi articoli scientifici a sua firma pubblicati su riviste e journals pertinenti l'Historic BIM (HBIM) e il cultural heritage.
Dal giugno 2012 al febbraio 2014 è stato ricercatore per il Centro Interdipartimentale per la Ricerca Industriale (CIRI) - Edilizia e costruzioni, sviluppando software e metodiche di documentazione del processo edilizio di natura BIM. Dal marzo 2014 al marzo 2018 è stato coordinatore di Unità di Ricerca FIR - Futuro in Ricerca per il progetto "Kainua. Restituire, percepire, divulgare l'assente. Tecnologie transmediali per la città etrusca di Marzabotto", in collaborazione con CINECA e il Dipartimento di Storia, Culture e Civiltà dell'Università di Bologna.
E' stato revisore scientifico accreditato per il programma di Master of Applied Science (Research) alla Queensland University of Technology QUT di Brisbane (Australia) nel 2013, per lavori pertinenti il BIM nella conservazione di edifici storici. E' Scientific Reviewer per SIGraDi, Ibero-American Society of Digital Graphic (Sociedad Iberoamericana de Gráfica Digital) dal 2012.
E' stato membro nel 2014 del comitato editoriale di IGI Global per pubblicazioni scientifiche di natura BIM nel progetto editoriale "Emerging Digital Tools for Architectural Surveying, Modeling, and Representation".
Dal 2016 è referente come vice presidente dell'Associazione culturale CitySpaceArchitecture per la partnership con la Carleton University di Ottawa (Canada) nell'ambito del programma internazionale New Paradigms / New Tools.
E' Guest Associate Professor per la Keio University di Tokyo dal 2015, nell'ambito del Programma Top Global University Scholars, oltre che promotore e coordinatore scientifico di BIM Foundation, organismo di ricerca sul Building Information Modeling.
Autore di numerose pubblicazioni scientifiche nazionali ed internazionali, si occupa di BIM per il patrimonio culturale, gestione del colore, rilievo ad alta definizione di opere d'arte, tecniche per il disegno assistito e modellazione tridimensionale.
________________
Simone Garagnani graduated in Architectural Engineering at the Alma Mater Studiorum - University of Bologna, where he attended the Ph.D. School with fellowship at D.A. (Department of Architecture); he developed a Ph.D. research entitled: "Digital Models and Design Archives - Integrated systems aimed to architectural documentation".
At the School of Engineering/Architecture he is Assistant Professor and he teaches and tutors in Drawing, Architectural survey, Virtual Modeling for Architecture and Computer Graphics courses.
From June 2012 to February 2014 Simone Garagnani was researcher at the Interdepartmental Center for Industrial Research (CIRI), developing software and BIM-related design methodologies. In 2012 Simone Garagnani was Visiting Scholar at the EECS department of UC Berkeley (USA) in order to improve his skills in terrestrial laser scanning survey and digital modeling applied to sustainable architecture. In 2013 he has been scientific reviewer for the Master of Applied Science (Research) at the Queensland University of Technology QUT in Brisbane (Australia), following a thesis work related to some BIM approach towards historical buildings. He is scientific reviewer for SIGraDi conferences, Ibero-American Society of Digital Graphic (Sociedad Iberoamericana de Gráfica Digital) and he has been member of the editorial board of IGI Global for the "Emerging Digital Tools for Architectural Surveying, Modeling, and Representation" project. Since March 2014 Simone Garagnani is Research Unit Coordinator in the FIR (Future in Research) project entitled "Kainua. Restituire, percepire, divulgare l'assente. Tecnologie transmediali per la città etrusca di Marzabotto" in collaboration with CINECA and the Department of History, Cultures and Civilizations of the University of Bologna.
Since 2015 Simone Garagnani is Guest Associate Professor at the Keio University in Tokyo (Japan). Since 2016, as vice-president of CitySpaceArchitecture non-profit association, he is main contact in the partnership with the Carleton University in Ottawa (Canada) for the international exchange programme "New Paradigms / New Tools".
He was associate Post-PhD researcher at D.A. until 2017. He is currently assistant professor (fixed term) at the University of Bologna, teaching in BIM courses; his recent interests span from architectural and urban design tools, to digital photogrammetry, terrestrial laser scanning, metrology and Building Information Modeling. Simone Garagnani's interests span from BIM applied to historic buildings, to digital color management, to the digitalization of cultural objects and ArchViz renderings.