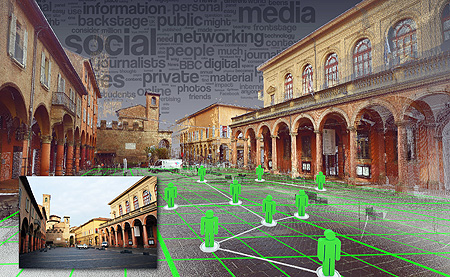 Nell'ambito del progetto "Past Present and Future of Public Space", l'associazione City Space Architecture organizza la tappa bolognese di presentazione dei propri lavori, dopo la partecipazione alla Biennale dello Spazio Pubblico dello scorso maggio a Roma. Sabato 9 novembre infatti, alle ore 10.00 in vicolo Bolognetti a Bologna,inizieranno i lavori della mattinata di simposio sui temi dello spazio pubblico, presieduti da Luisa Bravo, dove tra gli altri S. Garagnani, con Claudia Bonacini e Valentina Russo, presenteranno l'anteprima del progetto Hic sunt leones.
TC Project, partner del progetto, collabora con City Space Architecture dalla fondazione dell'associazione, curando gli aspetti di ricerca e sviluppo dei progetti per la disseminazione e la divulgazione tecnologica legati all'architettura, promossi tramite l'iniziativa Hacking space.

Gli interventi saranno commentati in diretta Twitter, con feed aggiornato in tempo reale sul sito di City Space Architecture.