GreenSpider release 1.0.2 is officially out for beta-testing, it can be downloaded here.

GreenSpider is a plugin developed by Simone Garagnani for Autodesk Revit 2012, taking advantage of .NET libraries 3.5 and C# programming code. Once installed through downloaded file, GreenSpider can be accessed in Revit mass modeling environment.
In order to import geometries, especially from Rhino+Grasshopper or laser scan segmented and decimated point clouds, a file called points.gsp has to be prepared and copied in GreenSpider directory (C:\greenspider, by default installation). GSP is a plain text file format where XYZ numerical values representing geometric vertexes are separated by semicolons, while commas are used for decimal marks.
This plugin operates Metric conversion for Revit so GSP values are required in centimeters.GreenSpider is still a prototype so it's possible to run two commands identified by two different icons in Revit: GSpoints and GScurves. The first import the vertex point cloud, while the second traces a spline interpolation among imported points, in order to build surfaces after several points.gsp imports.

GreenSpider searches for points.gsp file in proper directory. A little piece of software, called GreenSpider Translator and developed by Simone Garagnani as well, can be downloaded and installed in order to convert XYZ vertex files with no normals into the correct file format used by GreenSpider plugin into Autodesk Revit. GreenSpider Translator opens files, recognizes them, then parses them in correct format, copying a translated file renamed points.gsp into C:/greenspider, where the plugin can easily find it. Importing different set of point clouds is now easier since the Translator can be reset each time, erasing previous GSP files already acquired by Revit.
Here's the GreenSpider introductory page.
---
Release Note for old systems: GreenSpider r1.0.2 has been coded for Autodesk Revit 2012 running on Windows 7 machines. The installer could fail copying files on old computers running WinXP (not supported by GreenSpider but working flawless with its features). In case of troubles, please continue the installation process until the end, regardless of warnings and error messages. Then copy this file in your C:\Documents and Settings\USER\AppData\Autodesk\Revit\Addins\2012 directory, this should fix GreenSpider icons into Revit 2012.
---

My homemade Revit plugin codenamed "GreenSpider" is still under development but some interesting features are already working fine!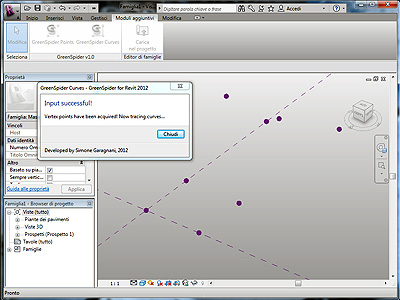 New GreenSpider experimental prototype. Now GS can generate splines through reference points in Revit.
Read some news about GreenSpider 1.0.