In my research, I'm deeply concerned about representing existing buildings in BIM domain. Thence, historical buildings are considerably a further reason for my interest. GreeenSpider was originally imagined as a piece of code able to traslate points as reference in Revit, with particular interest in Rhino+Grasshopper's parametric morphologies. However, dealing with real buildings, translating decimated point clouds from laser scanning or digital photogrammetry appeared to be feasible as well.
This post is intended as a practical example of GreenSpider implementation in real world documentation: in this case I would introduce a working pipeline on vault modeling in Revit from an accurate TLS survey.
Even if with lots of troubles in mind and a very few spare time, I keep working on Kinect developing aimed at point cloud extraction. Now that the official Kinect for Windows documentation by Microsoft is consolidated, I'm trying to write some c# code to create a little piece of software for dynamic point cloud collection.
More after the cut.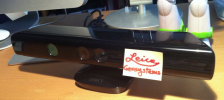 ---