List of existing software dealing with point cloud extraction
Even if with lots of troubles in mind and a very few spare time, I keep working on Kinect developing aimed at point cloud extraction. Now that the official Kinect for Windows documentation by Microsoft is consolidated, I'm trying to write some c# code to create a little piece of software for dynamic point cloud collection.
More after the cut.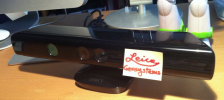 ---
However, before that, some state-of-the-art software has to be used and studied. This is a very tiny list of software I tried in demo mode during the last weeks, together with my XBox360 Kinect sensor.
Some Kinect software dealing with point cloud extraction
Producer

---

Quick description

---

Prize

---

Driver used

---

Brekel Kinect Pro PointCloud

Brekel Kinect Pro Pointcloud is a Windows application that enables 3D animators to record 3D pointcloud using a Microsoft Kinect sensor, and export them to popular mesh-cache and particle-cache formats for use most 3D packages.

99 USD
MS SDK drivers
ProFactor ReconstructMe

ReconstructMe's usage concept is similar to that of an ordinary video camera – simply move around the object to be captured. However, instead of a video stream you get a complete 3d model in real-time.

149 EUR
MS SDK drivers 1.7
SKANECT

With Skanect, capturing a full color 3d model of an object, a person or a room has never been so easy and affordable. Skanect transforms your Microsoft Kinect or Asus Xtion camera into an ultra-low cost scanner able to create 3D meshes out of real scenes in a few minutes.

99 EUR
MS SDK drivers 1.7
Faro Scenect

This free of charge software solution allows 3D enthusiasts various options - such as scanning for 3D printing, modeling, prototyping construction, graphics and game design. Commodity items, rooms, figures and real persons can all be scanned using your live moving sensor and the new SCENECT app.

free after registration

OpenNI Sensor and Primesense driver

3D systems Rapidform for Kinect

Rapidform.dll™ is a 3D Scannning Software Development Kit (SDK) to be used in Rapidform; it offers a wide range of point cloud (3D scan data), mesh, curve, surface, geometries, geometry computation libraries and dental APIs.

free

(Rapidform is commercial)

OpenNI freenect driver
3D3 Solutions KScan3D

With KScan3D, you can quickly and easily scan, edit, process, and export data for use with your favorite 3D modeling software.

299 USD
OpenNI Sensor and Primesense driver
Another important initiative is that of OpenKinect, an open community of people interested in making use of the Kinect hardware with PCs and other devices. OpenKinect members are working on free, open source libraries that will enable the Kinect to be used with Windows, Linux, and Mac. The OpenKinect community consists of over 2000 members contributing their time and code to the Project. OpenKinect claims to be a true "open source" community.
This page collects videos of various people doing tests and experiments with OpenKinect software, and Kinect themed websites
Nessun commento