Alcune righe per diffondere anche da questo canale una interessante iniziativa.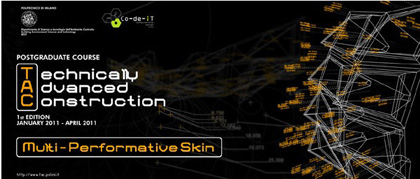 TAC Technically Advanced Constructionis a new postgraduate course for graduates and professionals established by the Department of Building Environment Science and Technology (BEST), Politecnico di Milano and Co-de-iT. It will run for three months and will allow participants to achieve high levels of knowledge in the design-to-production process through the use of advanced digital tools for design and machines for the creation of physical models. The entire course, based at the Polytechnic of Milan, will take place through studies, workshops and working periods assisted (during the development, manufacture and test trial) by a team of highly skilled professionals and teachers (from studies and international schools like AA London, ARUP, Buro Happold, Zaha Hadid, Gehry Technologies, SPAN Architects ...). The objective is to design, prototype, and finally test multi-performative skinsthrough computational design software. Audits in progress performance of the skin will be the main feedback to optimize the final design. The course will be completed by a series of public lectures held by the same course tutors and other professionals and teachers of international renown. The course will start on January 17, 2011 and will end on April 15, 2011 (daily attendance). Registration are open until December 13, 2010.
More info here!
TAC Technically Advanced Construction è un corso di perfezionamento per laureati e professionisti promosso dal Dipartimento di Scienza e Tecnologie dell'Ambiente Costruito (BEST) del Politecnico di Milano e Co-de-iT. Avrà una durata di tre mesi e permetterà ai partecipanti di raggiungere livelli specifici di conoscenza nel processo di "design-to-production" tramite l'uso di strumenti digitali avanzati per la progettazione e macchinari per la creazione e lo sviluppo di modelli fisici. L'intero corso, con sede al Politecnico di Milano, si svolgerà attraverso studi, workshop, e periodi di lavoro costantemente assistiti (durante lo sviluppo, la fabbricazione e i test di prova) da uno staff di professionisti e insegnanti altamente specializzati (provenienti da studi e scuole internazionali come AA London, ARUP, Buro Happold, Zaha Hadid, Gehry Technologies, SPAN Architects...).
L'obiettivo è la progettazione, la prototipazione, e infine il collaudo di "multi-performative skins" tramite software per il design computazionale. Le verifiche in itinere delle performance della "skin" costituiranno il feedback principale per ottimizzare il design finale.Il corso TAC sarà affiancato e completato da una serie di lectures "live" aperte a tutti, tenute dagli stessi tutors del corso e da professionisti e insegnanti di fama internazionale.
Il corso inizierà il 17 gennaio 2011 e terminerà il 15 aprile 2011 (frequenza giornaliera).
Le registrazioni sono aperte fino al 13 dicembre 2010.
Tutte le info qui!
Nessun commento