After six years from my first visit to Berkeley, I'm back again, this time as a scholar at VIP Lab. From yesterday afternoon I'm officially enrolled as a visiting scholar at the EECS - Electric Engineering and Computer Sciences, UC Berkeley: such an electrifying experience! My host, professor Zakhor, introduced me to her staff, assigned me a desk in a wonderful lab and provided me with useful information on how obtaining magnetic badge and security credentials to access Cory Hall and IT stuffs (yes guys, I HAVE GOT A BERKELEY.EDU MAIL ADDRESS ALREADY WORKING!!!).
I will work basically on digital modelling and interoperability of geometrical spatial data acquisition: very nice. The expected result is gaining as much experience as possible in quick surveys to embed knowledge in a fast-built "Chinese box".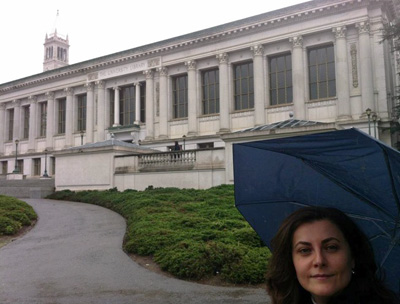 This great adventure couldn't have been possible without the brave persistance of my sweetheart, Luisa, visiting scholar too at IURD.
Nessun commento