Episode IV

After some very busy weeks, I managed to apply the decals I ordered last month on eBay to complete my Dinky Toys' Space 1999 eagle. Since I found in UK another Eagle in very bad conditions, I decided to restore it as well, bringing to a new life another spaceship, this time in its Rescue livery. So, after Episode I, Episode II and Episode III, it's time to make the story short, presenting the final results of my efforts. My Eagles are now ready to take off from Moonbase Alpha...
Paul Morrow: Alpha to Eagle One, come in One. Alpha to Eagle One, come in One.
Cmdr. John Koenig: Eagle One to base, we copy. Paul, we're returning to Alpha.
Let's go straight to the final Episode!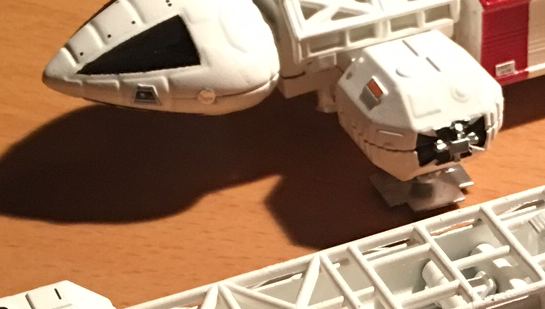 So, this is the final look and feel of my Dinky Toys' Eagles! Both had their new paint job, with matte and glossy white color instead of the original acid green, to be more respectful towards the original TV series.
Paper decals were applied together with some old dry transfer decals, in order to produce finishes and small details. I am pretty much satified with my results, with this couple of 43 years old toys now ready to be displayes again.
Nessun commento